With the structural adjustment and upgrading of the rice industry, the market demand for superior quality geng/japonica rice is increasing every year. The grain shape of traditional geng/japonica rice in China is mostly short and round, and in recent years long grain shape has become preferred by the market because of its excellent appearance quality.
Currently, the dense and erect-panicle 1 (dep1) gene is widely used in the breeding of geng/japonica rice in China since it brings in the high-yielding trait. The gene, however, also brings in population characteristics of short grains and low thousand grain weight. Besides, the theoretical basis and required germplasm reports are limited with regard to breeding high-yielding long-grain geng/japonica rice cultivars by incorporating dep1 with major grain shape genes.
Recently, the rice quality improvement research group from China National Rice Research Institute (CNRRI) reported the creation of a series of near-isogenic lines (NILs) (YF47dep1-gw8, YF47dep1-gs3, YF47dep1-gl7, YF47dep1-qgl3 and YF47dep1-tgw6) in Yanfeng 47(YF47dep1) background utilizing CRISPR/Cas9 technology. Further study clarified the effects of the above major-effect or partial major-effect grain shape genes on grain appearance and yield of erect panicle rice so as to evaluate the application value of these germplasm materials in rice breeding. Characteristics of grain shape and chalkiness, and dynamic development of the glumes and endosperm of the NILs were investigated.
Analysis showed that GS3 and TGW6 alleles can be applied directly for breeding long-grain shape geng/japonica rice owning to improvement in both appearance quality and yield, while GW8 allele can be considered the core germplasm resource since it exhibited the greatest length to width ratio and the lowest chalkiness degree though its grain yield was decreased.
The study entitled "Production of aromatic three-line hybrid rice using novel alleles of BADH2" was recently published in Plant Biotechnology Journal. HUI Suozhen, CNRRI graduate with a master's degree, and CNRRI Ph.D. candidates LI Huijuan and Amos Musyoki Mawia are the co-first authors. Prof. HU Peisong, Prof. HU Shikai and Prof. WEI Xiangjin from CNRRI are the co-corresponding authors.
This work provides the required germplasm and theoretical basis for breeding high-yield long-grain geng/japonica rice cultivars. The study entitled "Effects of Grain Shape Genes Editing on Appearance Quality of Erect‑Panicle Geng/Japonica Rice" was published in Rice.
This work was supported by grants from the National Natural Science Foundation of China (32071991, 31872861 and 31972961), the Key Research and Development Program of Zhejiang Province (2021C02056-1), the International Science & Technology Innovation Program of Chinese Academy of Agricultural Sciences (CAASTIP, CAAS-ZDRW202109), China National Rice Research Institute Key Research and Development Project (CNRRI-2020–01), the National Key Research and Development Program of China (2020YFE0202300), the Central Public-interest Scientific Institution Basal Research Fund (No.CPSIBRFCNRRI-202103), and the PhD research startup foundation of Liaoning Province (2020-BS-300).
Paper link: https://doi.org/10.1186/s12284-021-00517-5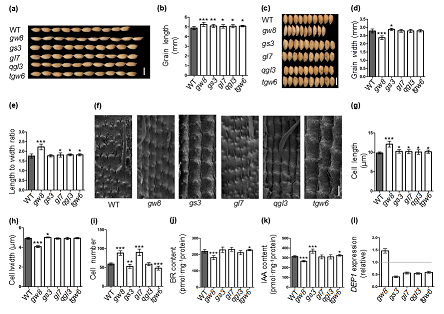 Figure The appearance and determination of grain shape and related impact factors analysis in YF47dep1 (WT) and the NILs.